Korean Press assesses 2022 World Cup Qualifiers: Vietnam is above Thailand
Recently, the Korean media has commented on the opportunities of Vietnam national team in the second round of 2022 World Cup Qualifiers in Asia.
On July 17, the Asian Football Federation (AFC) held a draw for the second qualifying round of the 2022 World Cup in Asia. Accordingly, it is such a coincidence that there are 4 representatives from Southeast Asia, including Vietnam, Thailand, Malaysia and Indonesia all in group G next to the UAE.
Not long after the drawing results, Seoul Sports magazine of Korea saw Group G as the "Southeast Asia World Cup". Vietnam, Thailand, Malaysia and Indonesia are considered the four most outstanding representatives of Southeast Asia when it comes to achievements in recent years.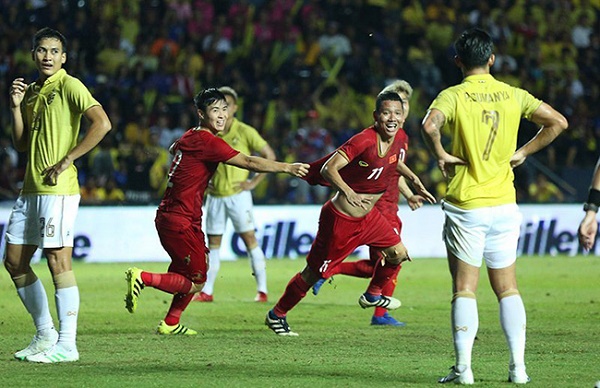 Also, Seoul Sports newspaper stated: "Vietnam has more advantages than Thailand, Malaysia and Indonesia in the race to win at least the second placement in Group G. For nearly 2 years, Vietnam won the AFF Cup 2018 and is the only representative of Southeast Asia to reach the 2019 Asian Cup quarterfinals.
In terms of the competing performance, Park Hang-seo's players defeated Malaysia 2 times in their last 3 matches and won over Thailand at the King's Cup on their opponent's home field. Meanwhile, Indonesia is only a shadow of itself compared to previous years. This is the most apparent evidence to put Vietnam on the top of the other three South East Asian rivals."
In the Asian 2022 World Cup qualifier, 40 teams will be divided into 8 groups, each of 5 teams competing back and forth. According to the rules, the top 8 teams in each group and the 4 best performing teams will win the final qualifying round, and officially enter the 2023 Asian Cup Finals taking place in China.
The 2022 World Cup qualifiers competing schedule of Vietnam:
| | |
| --- | --- |
| Time | Match |
| 05/09/2019 | Thailand vs Vietnam |
| 10/10/2019 | Vietnam vs Malaysia |
| 15/10/2019 | Indonesia vs Vietnam |
| 14/11/2019 | Vietnam vs UAE |
| 19/11/2019 | Vietnam vs Thailand |
| 31/03/2020 | Malaysia vs Vietnam |
| 04/06/2020 | Vietnam vs Indonesia |
| 09/06/2020 | UAE vs Vietnam |
The drawing results of 2022 World Cup Qualifiers:
Group A

China, Syria, Philippines, Maldives, Guam

Group

B

Australia, Jordan, Taiwan, Kuwait, Nepal

Group

C

Iran, Iraq, Bahrain, Hong Kong, Campuchia

Group

D

Saudi Arabia, Uzbekistan, Palestine, Yemen, Singapore

Group

E

Qatar, Oman, India, Afghanistan, Bangladesh

Group

F

Japan, Kyrgyzstan, Tajikistan, Myanmar, Mongolia

Group

G
UAE, Vietnam, Thailand, Malaysia, Indonesia

Group

H

South Korea, Libanon, North Korea, Turkmenistan, Srilanca




TheThao247 - Tinnhanhonline.vn