Van Lam: 'I don't know what's going on'
Thể Thao 247 - Goalkeeper Dang Van Lam feels disappointed but affirmed that he does not regret his decision which was making a move to Muanthong United.
Flying to Muangthong with a lucrative contract for a goalie, Van Lam was expected to be with the team to conquer for the title this season.
However, 11 rounds of the tournament passing, Muangthong still seated at the bottom of the table with only 7 points.
Drowning in the same struggle with the team, Van Lam has lost 19 goals - a fatal number of a Vietnamese national player.
Van Lam and his team suffered an unbelievable failure in the latest match wherein the team was knocked out by Police Tero (second ranked team).
Stating to Goal Thailand, Van Lam shared:
"Of course I feel so bad. We lost in a game that we all controlled it. In the first half, we created many opportunities but could not end it, it was our fault. The team has to pay for losing the game 4 minutes before the match ended, time was not enough to correct the mistake."
"I cannot figure out our problem but it was such a hard year for Muangthong. Since Thai League and League Cup started, the team has been constantly fought to get back our confidence."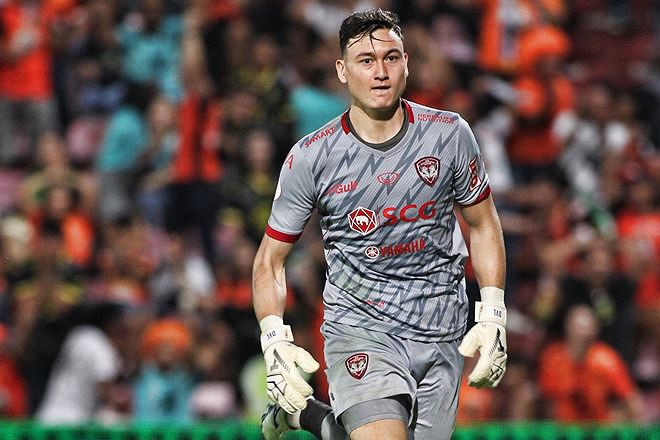 Van Lam is confident that he will weight up the team back to their real position
Van Lam is confident that he will weight up the team back to their real position.
"When I moved to Muangthong, I knew it was a big team in Thailand. They were the champion many times. No matter how the results would be, we are still the top team. Every team has a tough time and this year is that time for Muangthong but I want to say that everything hasn't ended yet. Just 10 games have passed and I believe the whole team will return to the best position."
Leaving Vietnam where Van Lam had a good career to Thailand where he linked to the top 1 team which unfortunately is going through a struggle time, Van Lam does not regret his decision:
"Nothing really happened, I believe in my decision coming to Thailand, which is a big move in my career. I have gained a certain experience. In every game, I try to learn more. I like everything in Thailand. This season is very difficult as all 16 teams are very strong, the levels are similar. However, as I said before, everything has not ended yet."
TheThao247 - Tinnhanhonline.vn