Incheon boss: "Cong Phuong's ball procession stands out of the team"
Thể Thao 247 - After playing out 90 minutes against Pohang, Cong Phuong was heaped praise from Incheon United's leaders.
On May 11, Incheon United encountered Pohang Steelers within the framework of 2019 K-League Round 11.
Cong Phuong was given a slot in the starting line-up. Park Hang-seo made his appearance in the stadium seating to watch the game.
Although launching massive bids to assert himself, Cong Phuong could not save his team loss and conceded a regrettable goal to the opponent in the extra time of the second half.
However, Cong Phuong still received praises and encouragement from Incheon Utd's leaders and Mr. Lee Cheon-soo - The Strategic development manager of Incheon United:
"Cong Phuong is qualified enough to play in Incheon and being in the developing process. If things continue as it is now, everything will be fine. His ability in breaking the situations when being tackled is top of the team. He just needs a little adjusting, then the moment Cong Phuong astonishing fans would be not far away."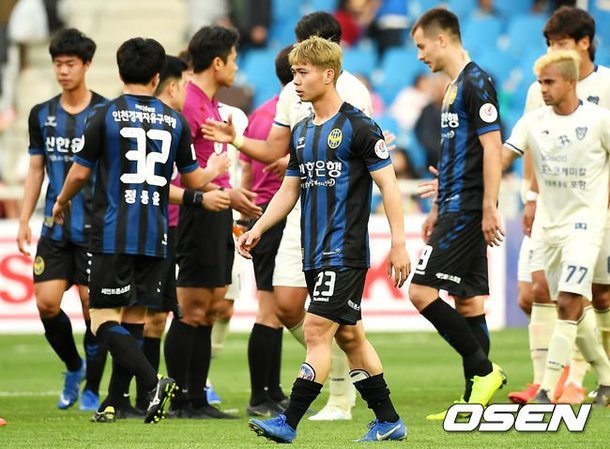 Cong Phuong received praises and encouragement

Incheon United head coach explained his reason for launching Cong Phuong to the starting lineup:
"He performed very well in the training sessions so he deserved to have a chance to play. Initially, I planned to send Cong Phuong into the field in the second half but the Moon Chang-jin had some health problems, leading to my decision in giving Cong Phuong a chance in the starting lineup."
Losing to Pohang Steelers made Incheon keep being rooted at the bottom of the table with only 6 points after 11 matches. This was the second consecutive match Incheon United had to suffer in K-League since Lim Joong-yong coached the team.
The upcoming match would be a tense challenge to Lim Joong-yong side who set to have an away game against Daegu (4th place on the table) in the next round. Daegu was the team trounced Incheon 3 – 0 right on Incheon's den in the first leg.
TheThao247 - Tinnhanhonline.vn