Muangthong makes a strange offer ever in Thailand history
Thể Thao 247 - Muangthong United where Dang Van Lam is playing for, made a strange offer ever in Thailand history.
The club shocks football lovers after making its proposal not to summon its players due to their terrible performance.
Kan Chantarat, Muangthong secretary, revealed that they had a long discussion on May 11. They all agreed to send the dispatch to FAT for not calling any Muangthong players to secure Thailand NT's achievements.
Players currently on Thailand NT list are Adisorn Promrak, Sarach Yooyen, Charyl Chappuis or Adisak Kraisorn, especially Teerasil Dangda, an important player in 'Changsuek'.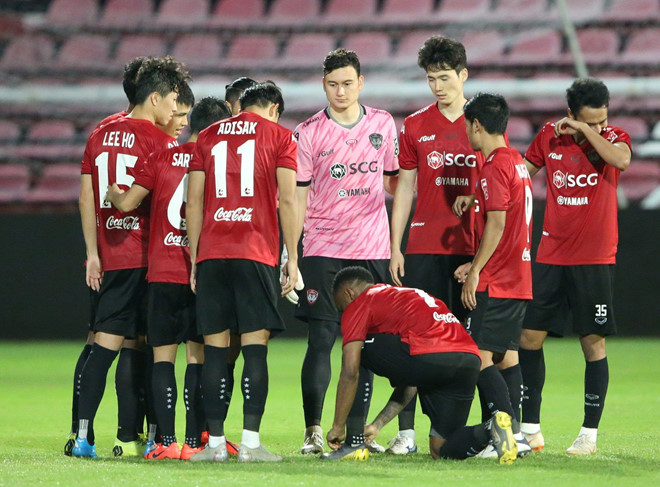 Muangthong United is undergoing a severe crisis after 5 consecutive thrashings in 7 games, bottom the table. There is no sign for its comeback.
The club board believes all national players in Muangthong are having problems. The club's also afraid to affect  Thailand achievement in King's Cup 2019 or further World Cup 2022 Qualifiers. Thereby, the board hopes FAT not to summon these players.
Muangthong stated that they are trying their best to bring the team back to it's form. The national players are of special care both physically and mentally as much as possible. If they are call, Muangthong still let them go. However, Muangthong United don't stimulate this and ask FAT to considers thoroughly.
This is the first time in Thailand football history that a club has made a weird offer like this while Thailand is in a rush to prepare for King's Cup 2019. With the tournament this time, Thailand will proclaim their powerhouse position in ASEAN as well as find some advantages ahead of World Cup 2022 Qualifiers.
TheThao247 - Tinnhanhonline.vn