Cambodia win, Vietnam crash out of the AF U18 tournament
The 2-1 defeat of Vietnam cause them eliminated from the AF U18 Championship 2019.
U18 Vietnam had its  last match in the group stage, encountering Cambodia, which they must win to have a chance to join the semi-finals.
With the high determination, U18 Vietnam created a dominated game with the smooth cooperation on the attack, Vietnam keeps a high pressure to the opposing net.
In the first 45 minutes, U18 made many dangerous situations yet missed the goals due to bad finishing skills. Vietnam side Xuan Tao planted the ball into the net of his rival yet the goal was not recognized. However, the slow motion video proved the referee wrong.
U18 Vietnam entered the second half with a spate of attacks to seek a goal but just 10 minutes later, Cambodia launched counter-attack with Sieng Chanthea's goal, opening the scoring.
U18 Vietnam then gave out a barrage of relentless attacks while Cambodia's defense was unbreakable, making all the effort from Vietnam side meaningless.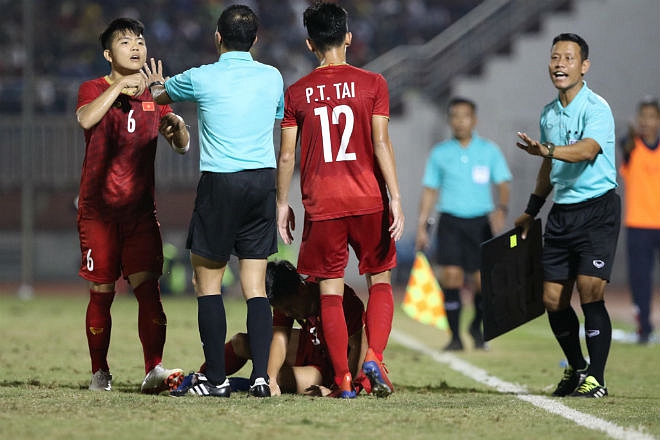 Kim Nhat had a very quick kick, picking up the equaliser. However, only 3 minutes later, from the final counter-attack, the U18 Cambodia won the second goal from Thy Lieng, through which, officially pushed Vietnam out of the U18 South East Asia tournament.
At the same time, Australia hammered Singapore with a score of 5-0. Meanwhile, Thailand  have won 1-0 against U18 Malaysia. U18 Australia and U18 Malaysia through to the semi-final.
TheThao247 - Tinnhanhonline.vn