French newspaper: ' Vietnamese Messi is going to Europe to play football'
French media expects 'Vietnamese Messi' Nguyen Cong Phuong to do the trial job successfully and play in Ligue 2.
According to some sources, Nguyen Cong Phuong will do his trial job in 1 month at Paris FC.  Coach Guillaume Graechen, the first coach of Cong Phuong introduced to bring the striker to France.
The trial of Cong Phuong in Ligue 2 has caught the attention of French media.
Goal newspaper wrote: "The most promising talent in Vietnamese football Nguyen Cong Phuong will come to try out at Paris FC from June 15 to July 15. If successful, this striker can achieve his dream of playing football in France.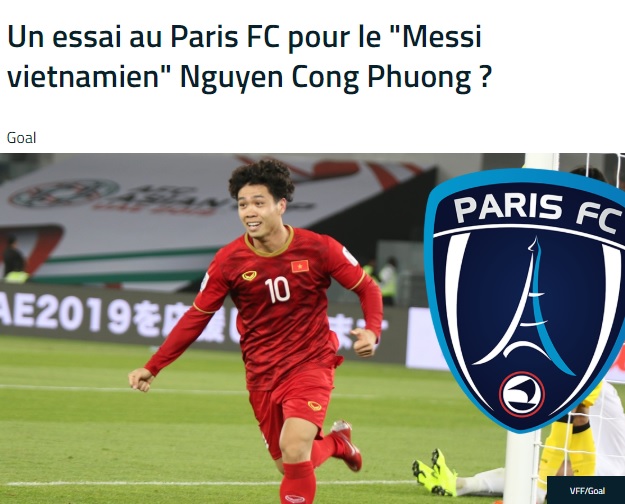 The deal caught the attention of many observers, as Nguyen Cong Phuong was named 'Vietnamese Messi'. This striker is only 1.68 meters tall yet owns great technical skills.
Without any experience playing football in Europe, what Cong Phuong needs most is time. The player promises to be an interesting piece of Ligue 2 ranked team last season ".
Paris FC is playing in the French Second Division (Ligue 2). This team has played impressively and finished the 2018/19 season 4th place, winning 65 points after 38 rounds. They had a chance to play the play-off to take a slot to Ligue 1, but unfortunately lost to Lens.
Reportedly, Paris FC has similar gameplay with HAGL, focusing on controlling the ball, short pass. The Ligue 2 side team's strategy also prioritizes the use of small but technical players like Cong Phuong.
If he is unable to go to Paris FC, Cong Phuong will also be selected to play in another environment. HAGL club revealed, as soon as Cong Phuong parted away with Incheon, a series of teams in Europe were ready to invite Cong Phuong to try the job. Thus, the  striker from Nghe An will not have to worry if this trip to France fails.
TheThao247 - Tinnhanhonline.vn