Coach Chu Dinh Nghiem receives heavy punishment, Hanoi FC loses it head coach in HAGL match
According to the latest decision from VFF, Hanoi club coach Chu Dinh Nghiem will be banned from directing two matches, starting from the match with HAGL in round 16 V-League.
Previously, after the confrontation between Hanoi and Khanh Hoa in the 15th round, coach Chu Dinh Nghiem had reacted harshly to the referee. Mr. Nghiem rushed into the yard with aggressive attitude and no restraint to criticize the referee. Despite giving an apology, his action still left the bad impression and affected the process of building the cultural football environment.
Therefore, before round 16 V-League takes place, VFF has issued an appropriate disciplinary case for Chu Dinh Nghiem and the foul. Mr. Nghiem will be fined $435 and banned not to direct 2 games. In addition, the Hanoi club was also fined around $1000 for being unable to control audience going down the street, throwing water bottles down the pitch, insulting the referee.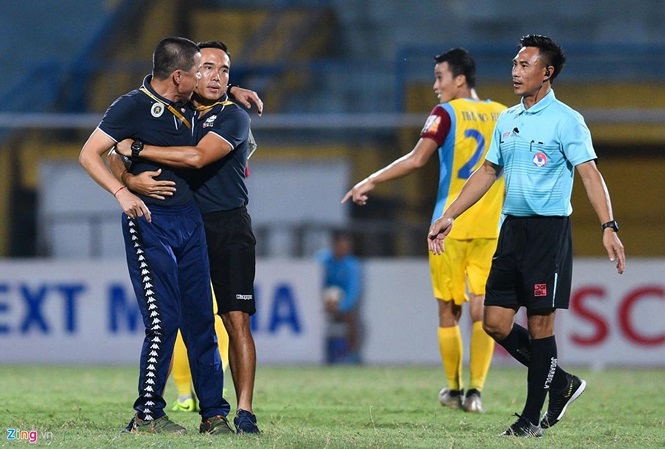 Thus, Hanoi club will enter an important match with HAGL without the direction of the head coach. Last season, coach Chu Dinh Nghiem also had overreacted reactions and he was subject to a ban on directing up to 4 matches. This will certainly be a big loss for the capital team, especially when they are experiencing a series of unstable performance.
In this season, Hanoi always proved struggling, which made them lose the top spot to HCM City FC. Despite a 1-point gap, it is Chung Hae-seong who knows to take the chance.
In addition to Hanoi, Nam Ha Pharmacy Nam Dinh is also subject to a fine of $1000 for bad behavior of the audiences.
TheThao247 - Tinnhanhonline.vn